Partners and Supporters 2024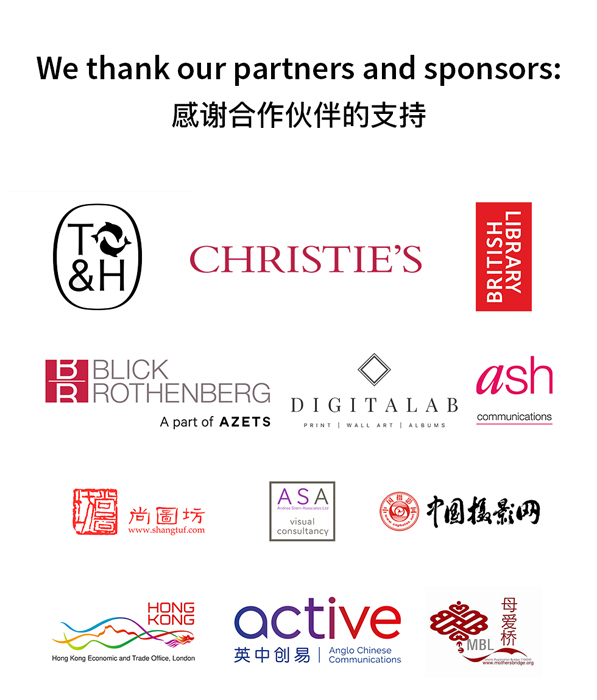 ---
---
British Library: This national UK library houses shelves that hold over 170 million items – a living collection that gets bigger every day. The British Library's London and Yorkshire sites hold collections ranging from newspapers and maps to sound recordings, patents, academic journals as well as a copy of every UK domain website and blog. The public spaces are places to research, to meet friends, to start up a new business or simply to be inspired by visiting its galleries and events.
Christie's: This British auction house was founded in 1766. Its main premises are in London with additional salesrooms in New York, Paris, Hong Kong, Milan, Amsterdam, Geneva, Shanghai and Dubai. Christie's is a world-leading art and luxury business, renowned and trusted for its live and online auctions, as well as its bespoke private sales.
Hong Kong Economic and Trade Office London: This Office is Hong Kong's representation in the UK, responsible for fostering trade and economic relations with countries including Denmark, Estonia, Finland, Latvia, Lithuania, Norway, Russia and Sweden. The Office promotes bilateral trade with and investment in Hong Kong, and updates the business communities and multiplier organisations on important developments in Hong Kong.
Blick Rothenberg: This tax, accounting and business advisory firm puts its people and client relationships first. Its partner-led approach ensures that client companies receive a high-quality service from a team of expert people. Combining technical expertise with personal integrity, it offers auditing, accounting and business advisory services as well as advice on corporate and personal tax matters.
Digitalab: This professional photo lab has over 70 years' experience of providing exceptional quality services to the photographic industry. Originally established in 1949 as Mobile Photo Services, Digitalab is housed in custom designed premises in the Ouseburn area of Newcastle. From its unrivalled C-Type Photographic Prints to its extensive range of framing options and wall art, the care and attention to detail evident in all of its products help set clients apart from the competition.
Shangtuf Image and Art Development Co., Ltd: This platform for photographic art exchange with the rest of the world, introduces works of Chinese photography to other countries as well as bringing photography from overseas photographers to the Chinese photographic community.
Mothers' Bridge of Love: MBL was founded in 2004 by bestselling author Xinran. It is a UK registered charity dedicated to reaching out and enriching the lives of Chinese children in all corners of the world – those adopted by Western families, those raised abroad and those living in China.
ACTIVE Anglo Chinese Communications: This is the parent company of the Global SinoPhoto Awards, founded in 2000 by Yintong Betser. ACTIVE is a PR/marketing consultancy specialising in facilitating and developing business between the two countries through events and activities.